Milling is a machining method in which a milling cutter is used as a tool to machine the surface of an object. Use a rotating multi-edge tool to cut the workpiece. As a reputable cnc machine milling and turning company in China, Zhongde supplies customized precision cnc machining services.
High speed cnc milling by Zhongde is generally carried out on a milling machine or a boring machine, which is suitable for processing planes, grooves, various forming surfaces, and special shapes of molds. Zhongde has advanced horizontal milling machines, vertical milling machines, and gantry milling machines in China, which can be used to process small to large cnc machining metal parts and plastic parts.
At the same time, our 3-axis machining centers and 5-axis machining centers can also ensure the accuracy and quality of processed products. We have many kinds of materials such as metal and rubber, and different customized cnc milling surface treatments for you to choose from. Our milling services can meet your various needs. As for the cnc mill cost, Zhongde, a reliable cnc machining services supplier, always sticks to the customer-oriented principle and provide affordable milling and machining price. Get a quote immediately and we will offer you the most competitive cnc machine milling, cheap and best.
Below table shows the size of rubber CNC Milling parts we usually make. If you need a larger size, we can also help you achieve it.
| | | |
| --- | --- | --- |
| Size | Metric | Inch |
| Length | 2500 | 98.7 |
| Width | 2000 | 78.7 |
| Height | 1500 | 59 |
Available Material of CNC Milling
In addition to the general materials listed below, Zhongde, a reputable cnc machining company, providing cnc milling and cnc turning service, can also modify the materials according to the special needs of customers. Our professional engineers will adjust the raw material formula to meet the unique conditions of use.
Aluminum

Copper

Stainless Steel
Brass

Carbon Steel

Steel Alloy
ABS

Nylon 6

PVC

HDPE

PC | Polycarbonate
PP | Polypropylene

POM | Delrin

LDPE

UHMWPE

PTFE
Surface Finishing of CNC Milling
| | |
| --- | --- |
| Name | Description |
| Glossy | The mold is smoothed and then polished with a diamond buff, resulting in parts with a mirror-like finish. |
| Semi-gloss | The mold is smoothed with fine-grit sandpaper, resulting in parts with a fine surface finish. |
| Matte | The mold is smoothed using fine stone powder, removing all machining marks. |
| Textured finish | The mold is first smoothed with fine stone powder and then sandblasted, resulting in a textured surface. |
| As-machined finish | The mold is finished at the machinist's discretion. Tool marks may be visible. |
Please leave your message here! We will send detail technical info and quotation to you!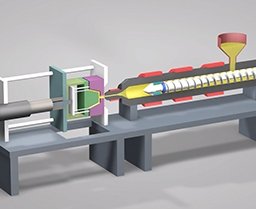 After years of experience in custom injection mold tooling service, we have summed up some mold processing tips, I hope it will be useful to
Read More »